Unforgettable Midsommar Party in Sverige
This would have to be the biggest celebration of the year in Sweden, and I have been so fortunate to experience it with a group of friends who invited many of us work colleagues to a midsommar party to celebrate the longest day of the year and what is considered the beginning of summer.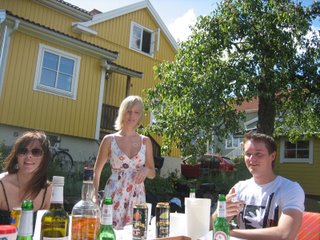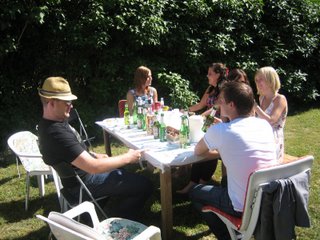 This was by far the best party I have been to in Sweden, and one that I will never forget in many years to come. As with most things Swedish there is a schedule which was more or less followed...
2pm – The traditional Swedish rotten fish lunch accompanied with "snaps" – a traditional liquor from the south of Sweden. While we're drinking we also sing the traditional song "the hole walk".
3pm – We build a huge pole covered with flowers and dance around it like small frogs. And we drink more liquor.
4pm – We have a very serious tournament called "fivebattle". For example the game " The drunk Norwegian" and "jump in a sack". And we drink more liquor.
7pm – Barbeque and – more liquor.
8pm – Strawberrys and – more liquor.
11pm – is "raj-raj" and more liqour.
1am – The traditional Swedish "naked bath" in the traditional Swedish midsummer-weather – cold as hell and raining. In our case, in the local lake.
2am – Collect the legendary flowers, seven of different kind, and jump over seven field fences so that you can dream about the person you will marry.
3am – Fall asleep in a hammock, under a table, in a wardrobe, wherever you want… except for your own bed. (don't forget your flowers, should be under the pillow, otherwise you're screwed)
12pm – Have the traditional Swedish midsummer-hangover and help the Attermo sisters to clean the place. Please.

Dancing around the (small) pole like frogs (
video here
).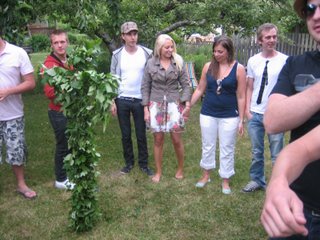 "Naked bath" in the (very short) night at one of the Stockholm lakes in Bromma. Freezing!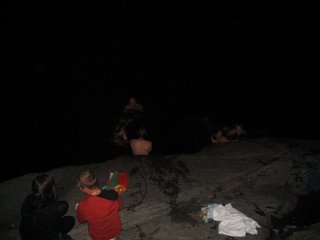 If ever you get a chance to go to a midsummer party, it is a must, the best fun I have had in a very long while.