ANZAC Day
What an amazing day ANZAC day has become for all Australians. I wonder whether the forces that landed at Gallipoli 90 years ago to the day, would have ever thought that all this time later, that ANZAC day probably means far more to being Australian than any other day of the year.
While there are less and less servicemen and women marching in the parades, the attendances at dawn services in every capital city have increased, not to mention the thousands and thousands of young Australians and New Zealanders who visit ANZAC cove in Turkey every year on this day. Someone young I know said that the playing of the Last Post was the most emotionally sad piece of music around - all because of its association with remembering the thousands of casualties of war. It is said that although Australia became a nation in 1901, it wasn't until the Great War, that Australia stood on its feet.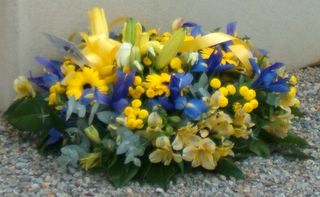 The following extract from a poem, For the Fallen, by Laurence Binvon, and said at most services, is just as relevant today to the feelings of many young Australians as it has ever been.
They shall grow not old, as we that are left grow old;

Age shall not weary them, nor the years condemn.

At the going down of the sun and in the morning

We will remember them.
Lest We Forget