Death of a Sigma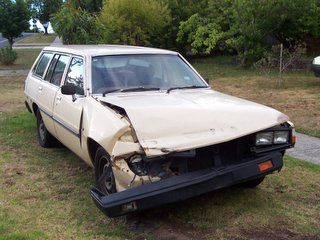 I was saddened to hear that a friend's (who shall remain nameless) Mitsibishi Sigma Wagon had an altercation with an freeway onramp crash barrier ending a colourful life for the under-powered beast (no humans were injured). Some memories would be
Long before my friend got his licence, his mum driving us in it and him "accidently" knock the car into Neutral while going up a steep hill.

Mending a rusted hole in the boot. Carefully cutting away the rust, gluing sheet metal inside it and filling, before sealing and painting. Looked good after that.
Repairing the roof lining. First with spray on adhesive, didn't work, then painting on the adhesive, still the lining fell down, before he used some other material.
The altercation with a pole while I was in the car (everyone was fine), but the car needed a little repair on the spot to enable it move again.
A hair raising ride down the Great Ocean Road to Apollo Bay, that I would rather not repeat. The breaks on the car failed 2 weeks later.

Being told that it had been stolen from Chadstone car park. It showed up about two weeks later.
RIP Sigma.