Brother's graduation parade
(belated post)
There is more than one reason for me to visit Canberra for the 3rd time in the past few months, my brother who I haven't seen much of recently graduated from the Royal Military College
Duntroon
as an officer in the Australian Army. 18 months of hard work and
persistance
cumulated
in him receiving his commission from the Governor General of the Commonwealth of Australia.
Pictured below is the end of the graduation parade with the class of December 2008 marching past for the final time. The parade and commission ceremony was followed by a graduation ball in the evening.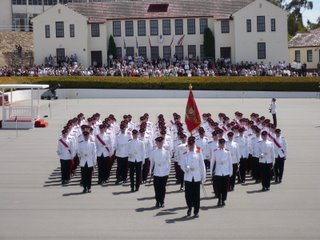 The next day, my girlfriend and I drove her car packed with 2 semesters of "stuff" on the long journey back to Melbourne, facing 125km of roadworks with limits of 60-80km/h and 1 tyre blow out. We made it...