Cooma and the Snowy Mountains
(belated post)
Not a lot happened during September and October, work was fairly
cruisy
and it was nice to just enjoy being back in Australia. Only downside, whilst I was in Melbourne, my girlfriend was up in Canberra. After she spent a couple of weeks back down here, I paid her another visit around her birthday.
This time we went a bit further and spent a weekend in
Cooma
, just over 100km south of Canberra at the foot of the Snowy Mountains. On one day we drove up to
Charlottes
Pass and went for a walk down to the mighty Snowy River. Here it is 6km downstream from its source which we had to wade across. Please keep in mind that white stuff in the background is snow which is melting, the river was bloody freezing!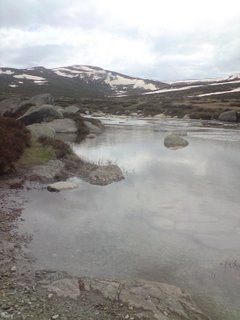 This was my fourth visit to Canberra, but first to Parliament House, the most recognisable landmark of the city, "inside" Capital Hill.