Swedish National Day
Today - 6th June is Swedish national day, a public holiday here. Normally there are plenty of national flags flying in this country, but today the city was a sea of blue and yellow everywhere you looked. You can feel the mood of the country changing, it reminds me of the end of year when we were at university, that summer is just around the corner and everyone is about to go on vacation. People are happy and there is a party atmosphere in the air.

Pictured below is a festival in Kungsträdgården - on stage a very popular Swedish singer, Charlotte Perrelli who won Eurovision for Sweden in 1999 (
video
) and was also Sweden's entrant in this year's competition held a couple of weeks ago with her song "Hero" (
video
).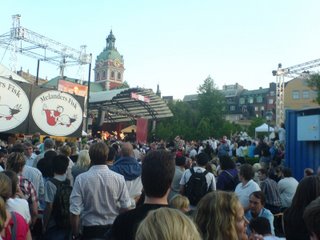 Stockholm is a very good city to ride a bike in,
here is a video
of me riding from City Hall through the centre of the city along bike paths to some forest. I have sped up the video to make it a bit more interesting to watch.