Moomba
It's a little disappointing to see what has become of
Moomba
. I can remember in primary school, probably grade 1 and 2, it was a really big event. The whole school had their own parade and the Moomba festival was the talk of every classroom. Now it's just merely a few rides, a fireworks show and waterskiing, oh and there is an attempt to revive the Birdman Rally. How about they put it on the same weekend as the Grand Prix and make one big event with a huge parade.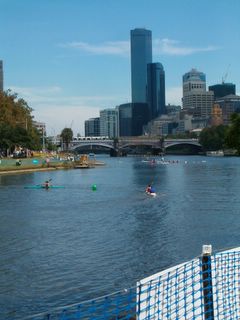 I also took the time today to complete the visit to the
National Gallery of Victoria
but visiting the Ian Potter Centre, which houses all the Australia artworks of the National Gallery in Federation Square. Again it is very well done, and well worth the visit (it is also free entry). Outside it was interesting to watch these people do some ice sculpting.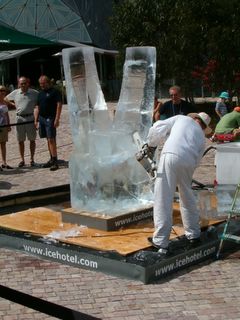 It was a great day to get out and about in the city. Perhaps just a tad too warm to be hiking around the place (~30C), but I'm certainly not going to complain about the weather, I'd have this any day.