Marysville Short Break
I'll be going back to uni soon, so before I get too busy, it was time to have a short break away from the city. Kylie and I had booked a place in Marysville to stay for a night.
Maroondah Reservoir
is just past Healesville and supplies water to Melbourne's central and western suburbs from what I can make out from the map (even through the reservoir is in the north east). It's one of the oldest reservoirs, built in the early 20th century. There are some nice gardens below the dam wall. Surprisingly this reservoir appeared to be full, the spillway was overflowing. A bit different to Upper Yarra Dam below.
It was up the very scenic and fairly windy Black Spur to Marysville. No trip to Marysville would be complete without a visit to Stephensons Falls. The walk to the top is steep but worth it.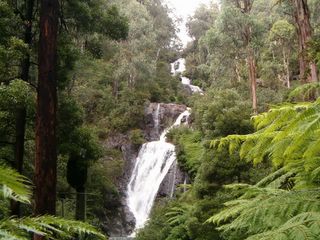 The next day (Wednesday) we visited the Sculpture Garden. I'm not a big art person, but these sculptures (over 100 of them) were certainly impressive, and well worth a visit. Pictured below is one of my favourite.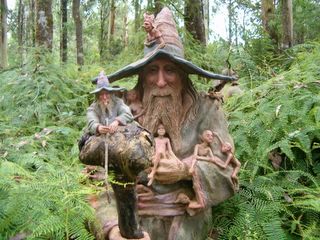 Drove east from Marysville and up Lake Mountain. I hadn't been there for a number of years and was surprised to find a huge shop/cafe/bistro/info centre there where the old picnic tables were. The place was very very quiet in comparison to the winter. Despite the recent weather there was no snow. It was however noticeably cooler.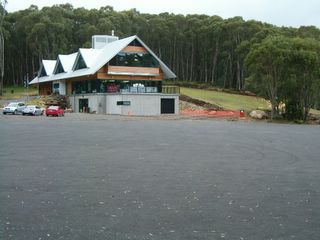 Here is a picture from the summit of Lake Mountain (1530m ASL). You can just make out the buildings of Melbourne and the bay from here, but you really have to squint.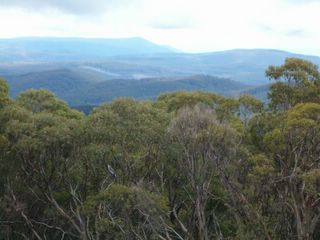 From Lake Mountain we drove through the Cumberland Ranges and down the Reefton Spur. This road takes you through much of the water catchments areas, so entry to the forest is strictly prohibited. If you've ever wondered why Melbourne's water is some of the best in the world, that's why, the forest is for water catchment only.
Pictured below is Upper Yarra Reservoir. From the
distribution network map
. This reservoir and the feeding Thomson Reservoir which feeds into this one via a water tunnel through the mountains, supplies much of Melbourne's east and south eastern suburbs. At the time of the photo is was at 58% of its capacity.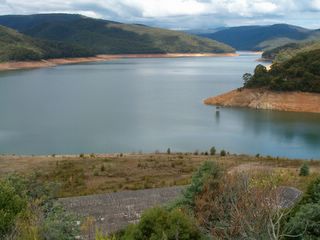 From here is was back home via Warburton, then the back way through Kirth Kiln Park, Gembrook and Emerald.