Melbourne's Philanthropist - Sidney Myer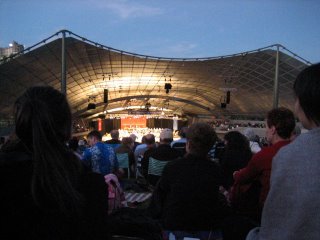 After travelling around the other side of the world for 6 weeks, it's nice to come back and enjoy something that is very unique to Melbourne. The series of free concerts at the Sidney Myer Music Bowl by the world class Melbourne Symphony Orchestra (MSO). Sitting outdoors on the grass, on a warm evening with a view of the city in the background. I might add that I find the story behind these free concerts by an orchestra, which is usually fairly expensive to see, which have been put on almost every year for over 70 years wonderful.
Melbourne owes so much to the philanthropist Sidney Myer who set up a fund to put on free concerts every year in the Botanic Gardens. After his death, his trust also built the magnificant Music Bowl in the beautiful gardens in the King's Domain. For those Melburnians who haven't been to one of these concerts, it is a must, and it wont cost you a cent.
More on Sidney Myer
.