Berg Slussar
Today I went for a bike ride to the lock gates at Berg (about 10km from Linköping).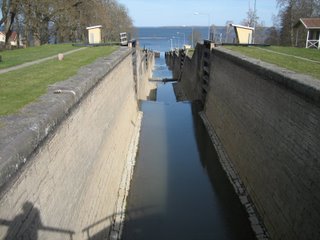 These form part of the Göta Kanal (pronounced 'yota' canal) that joins a number of lakes and rivers to make a passage from the east coast on the Baltic Sea to the west cost on the North Sea at Göteberg (Gothenburg).
Here there is a significant height drop down into the lake, Roxen with 7 lock gates (all open in the photo) and a number more upstream from where I am standing.
You can view the route I took in
Google Earth
(recommended) or
Google Maps
.
If you do have Google Earth 5, I have recorded a tour you can "play" with photos etc. Once opened with the link above on the left you will see a video camera icon with "Bike Ride" click this, then Play Tour button just underneath to the right.
Blog Post #200!
(since Jan '05)