Week 130 completed!
Week number 130 of uni completed! (13 weeks x 2 semesters x 5 years)
I remember counting them for a while back, lost count around week 40 something.
Finished the big 3 semester project - quite please with how it turned out in the end, I thought we were heading for distaster about 5 weeks ago.
You can tell from the bleary eyes that this was the last team meeting for the project, with our double shot Lattés from Espresso Bagel at QV.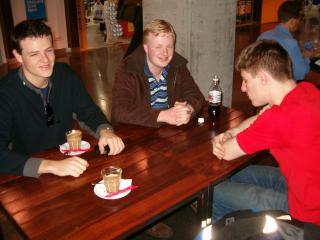 60 days to graduation (exams all being well), and 61 days till I fly to London for 6 weeks.