Barry Way into Kosciuszko National Park
Wed the 12th was a trip out of Snowy River National Park and up the Barry Way towards Jindabyne in New South Wales. The damage of the 2003 bushfires is still noticable and it still amazes me what a vast area this fire burnt. I viewed the devestation it left a year ago in the area of the Kosciuszko National Park around Thredbo and Alpine Way, but this was a long way from there and it was the same fire.
The road was pretty good until we entered NSW, the roads are never as good in NSW no matter where you go (take for example the Hume Hwy that goes from 4 lanes to 2 after the border). The road is endanger of becoming a 4WD track if not maintained properley. In NSW it changes from the Alpine National Park (Victoria) to Kosciuszko National Park.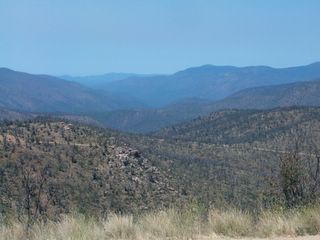 The road joins the Snowy River and follows it for a while, before heading on to Jindabyne where it meets the Snowy again at Jindabyne Dam. Pictured is the view from Wallace Craig Lookout.
At Jindabyne I recommend the
Alpine Chicken Shack
for
the best
chicken club sandwich, rarely do you get the service we did from the owner Helen.