Thailand - Patong
(belated post)
This Thailand holiday was a last minute thing. My girlfriend had got some time off work to come and see me in New Zealand since I was meant to be working there, ironically I told her that things could always change and I might not be. What do you know it, a week later the project over there was cancelled. She was smart enough to convince me to take the time off anyway and I said I always fancied going to Thailand. So we booked it 3 weeks in advance.
We stayed in Phuket for the first week, initially we were booked to stay at Patong Beach, but the hotel was "booked out", and we were asked if we could move to their sister resort at Karon beach - perhaps not such a bad change, much quieter, cleaner and still not that far away.
Here's Kylie going parasailing on Patong Beach - initially her idea not mine!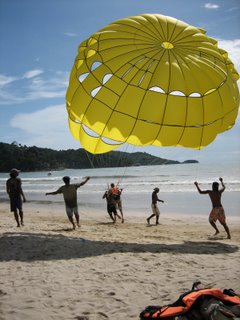 This is a picture from the balcony from our room. Views of the beach in the distance.