Yarra Valley Wine Tour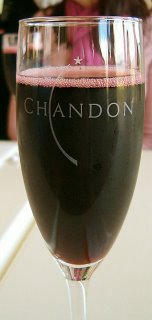 That's right...more wine!
This time on a winery tour of the wonderful Yarra Valley for my girlfriend's birthday.
Tasted 17 different wines - with tasting amounts, that is enough for you to feel a little intoxicated, I was annoyed at myself that I couldn't manage to finish this great Sparkling Pinot Shiraz (pictured left) from Domaine Chandon.
The tour included visits to
-
Yering Station
-
Rochford
-
Saint Huberts
-
Domaine Chandon
(owned by the famous Moët & Chandon) - top notch "sparkling" wines, ie Champagne